HEALTH CARE FRAUD UNIT
The HCF Unit's 80 prosecutors focus solely on prosecuting complex health care fraud matters and cases involving the illegal prescription, distribution, and diversion of opioids. The HCF Unit's core mission is to protect the public fisc from fraud, waste, and abuse, and to detect, limit, and deter fraud and illegal prescription, distribution, and diversion offenses resulting in patient harm.
The HCF Unit has a recognized and successful Strike Force Model for effectively and efficiently prosecuting health care fraud and illegal prescription opioid cases across the United States. HCF Unit prosecutors currently operate in 15 Health Care Fraud and Appalachian Regional Prescription Opioid (ARPO) Strike Forces across the country, including the District of Columbia. The Strike Force Model centers on a cross-agency collaborative approach, bringing together the investigative and analytical resources of the Fraud Section, FBI, the U.S. Department of Health and Human Services Office of the Inspector General (HHS-OIG), the Centers for Medicare & Medicaid Services (CMS), Drug Enforcement Administration (DEA), Defense Criminal Investigative Service (DCIS), Federal Deposit Insurance Corporation Office of the Inspector General (FDIC-OIG), Internal Revenue Service (IRS), and other agencies, along with the prosecutorial resources of U.S. Attorneys' Offices and state and local law enforcement partners. The HCF Unit is a leader in using advanced data analytics to identify aberrant billing levels and target suspicious billing patterns, as well as emerging schemes and schemes that are multi-jurisdictional.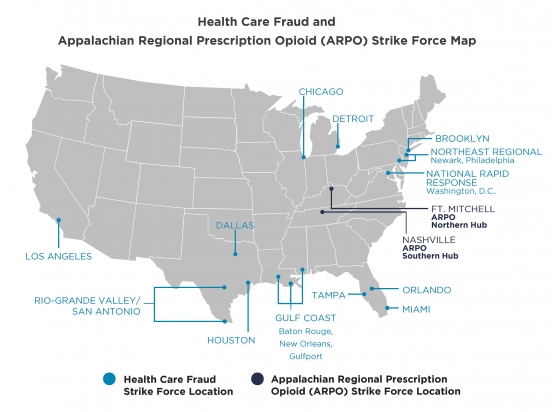 The HCF Unit's cases are increasingly complex, both in the individual Strike Force locations and the National Rapid Response Strike Force. Specifically, the National Rapid Response Strike Force was created in 2020 with a mission to investigate and prosecute fraud cases involving major health care providers that operate in multiple jurisdictions, including major regional health care providers operating in the Strike Force cities, with a focus on investigations and prosecutions of individuals and corporations. The National Rapid Response Strike Force coordinates with the Civil Division's Fraud Section and Consumer Protection Branch, U.S. Attorney's Offices across the country, state Medicaid Fraud Control Units, the FBI, HHS-OIG, and other agency partners in order to identify, investigate, and prosecute significant multi-jurisdictional and corporate health care fraud cases. Examples of the types of matters under this Strike Force's purview include a large-scale rural hospitals billing fraud matter indicted in the Middle District of Florida; the global resolution with Tenet Healthcare Corporation and related individual prosecutions; the telemedicine fraud and Sober Homes initiatives; and prosecutions of those seeking to criminally exploit the COVID-19 pandemic through health care fraud and related financial fraud schemes. NRRSF chairs the interagency COVID-19 health care fraud working group and, on May 26, 2021, NRRSF led the National COVID-19 Fraud Takedown, in which 14 defendants in seven federal districts across the United States were charged for their participation in COVID-19 fraud schemes that resulted in over $143 million in false billings.
DOJ Announces Coordinated Law Enforcement Action to Combat Health Care Fraud Related to COVID-19
In October 2018, the Criminal Division announced the formation of the Appalachian Regional Prescription Opioid (ARPO) Strike Force, a joint effort between DOJ, FBI, HHS-OIG, DEA, and state and local law enforcement to combat health care fraud and the opioid epidemic in parts of the country that have been particularly harmed by addiction.  The ARPO Strike Force focuses upon prosecutions of medical professionals and others involved in the illegal prescription, diversion, and distribution of opioids, and has partnered with approximately 10 USAO Districts, divided into two main components – ARPO-North and ARPO-South. Since its inception in October 2018, the ARPO Strike Force, which operates in 10 districts, has charged more than 90 defendants who are collectively responsible for distributing more than 105 million pills.
Contact us regarding Health Care Fraud
By Mail
Correspondence relating to incidents of health care fraud may be sent to:
Fraud Section, Criminal Division
U.S. Department of Justice
ATTN: Chief, Health Care Fraud Unit
950 Constitution Ave., NW
Washington, DC 20530
By Email
HCF Unit Leadership
Dustin Davis (link sends e-mail), Acting Chief, Health Care Fraud Unit
Kilby Macfadden (link sends e-mail), Principal Assistant Chief, Health Care Fraud Unit